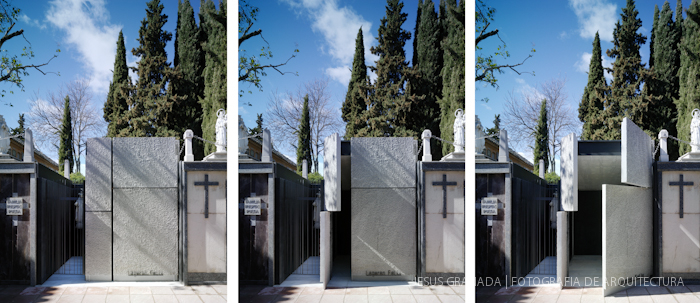 En el cementerio histórico de S.José de Granada se ha construido un panteón para una familia.
La emoción en el momento de la desaparición de un ser querido, la despedida y la meditación evocadora del recuerdo a través de los sentidos son importantes en esta obra.
El panteón es un volumen sencillo de piedra estriada, retranqueado en su frente y alzado lateral respecto a las construcciones existentes. La diferencia de cota entre el frente de acceso y el camino peatonal del jardín posterior permite la construcción de un espacio para el recogimiento y el reposo donde la luz cualifica la materialidad del espacio interior.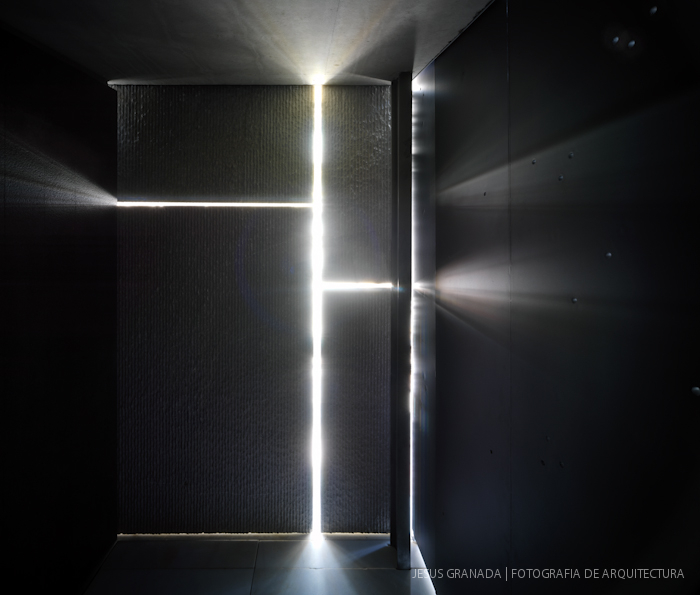 En el nivel superior, la cubierta se inclina levemente desde el pavimento para transformarse en un alzado que establece un diálogo contemporáneo con el contexto y permite su tranquila presencia desde el Jardín de las Cenizas.
El volumen del panteón se separa de la medianera para producir la fisura de la entrada.
Al fondo, una hiedra crece sobre una estatua.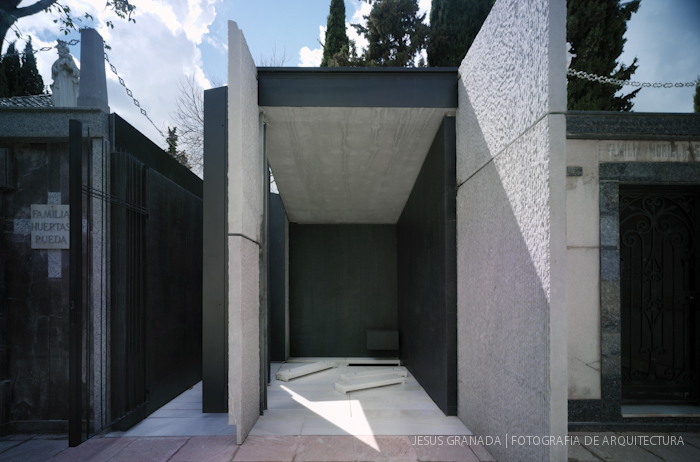 Las puertas de este acceso lateral son de chapa negra tersa con perforaciones de luz. Su apertura disuelve el alzado lateral y el espacio interior para producir nuevas relaciones con el exterior. Cuatro puertas de piedra estriada de diferente despiece forman el frente del panteón. Entre ellas construyen juntas de aire. Sólo serán abiertas en momentos muy especiales. El interior está vacío. Sólo meditación y silencio.
La luz filtrada a través de las fisuras entre las puertas de piedra se desliza sobre los paramentos de granito negro rugoso y el pavimento blanco, bajo el que se sitúan los enterramientos.
Unas estrellas de luz atraviesan las puertas laterales, transformando el espacio a lo largo del día y con el paso de las estaciones.
In the Historic Cemetery of St. Joseph of Granada, Spain, a pantheon is built for a family.
The emotion at the time of the disappearance of a beloved one, farewell and the evocative meditation of memory through the senses are important in this work.
The Pantheon is a simple volume of striated stone, set back on its front and side elevation from existing buildings. The difference in height between the front access and rear garden walkway allows the construction of a space for meditation and rest where the light qualifies the materiality of the interior space.
At the top level, the roof is slightly tilted from the pavement of the rear garden to become another elevation of the volume. It sets a contemporary dialogue with the context and allows its quiet presence from the Garden of Ashes.
The volume of the Pantheon is separated from the adjacent building by the fissure of the entrance. In the background, an ivy grows on a statue.
The doors of this side access are made of smooth black metal with light perforations.
Its opening dissolves the side elevation and opens the interior space to produce new relations with the context.
The front of the Pantheon is built by four striated stone doors of different proportions. Air joints are built between them. The doors will be open only on special occasions.
The interior is empty. Only meditation and silence.
The light filtered through the fissures between the stone doors slides over the black granite rough walls and the white pavement, beneath which lie the graves.
Some light stars pass through the side doors, and transform the space throughout the day and over the seasons.